An in-depth analysis of 2019 trends in pastry and fruit, which are on the up, according to Denis Boursier, Business Development Director, Les vergers Boiron
What are the main trends in the world of pastry in 2019?
What fruits are most in demand?
Present at the Omnivore trade show from March 10 to 12 at the Maison de la Mutualité in Paris, Les vergers Boiron, world leader in deep-frozen fruit purées, looks at the state-of-the-art and analyzes consumer expectations.
The trend in 2019, is 100% fruit, without added sugar. A analysis provided by Denis Boursier, Business Development Director, Les vergers Boiron.
What's trending right now?
Denis Boursier: Today, the main trend is to go 100% fruit. This evolution began at the end of the 1970's. It inched forward gradually, by stages, to reach its current sate. In the 1970's, the key words for pastry-makers were practicality and consistency. They also wanted to give their customers taste, texture and the unchanging freshness of fruit all year long. This is the reason why, based on that need, Les vergers Boiron invented the deep-frozen fruit purée for food professionals. It was truly revolutionary for its time!
At the beginning, all our fruit purées were sweetened. To respond to professionals' needs, especially those who wanted to develop their creativity or work more freely to get the right balance in their recipes, Les vergers Boiron launched its first 100% fruit purées, without added sugar, in 1976. During the ensuing years, we observed a trend to diversification and originality in taste. This meant either using exotic, "rare" or less well-known fruits, at least in European markets. Today, all our flavors, whether they're classical or more original, are being impacted by the 100% fruit trend. The result is that we adapt our product ranges and that we will continue to do so in the future.
So what exactly does the 100% trend mean today?
Beginning in the 1990's, consumers became more aware of the importance of food for their health and their wellbeing. They wanted to eat better food, not too rich in fat, with less salt and sugar, and they wanted more genuine products. Therefore, restaurant professionals adapted themselves to the demand and became more interested in real and genuine products they could work on more freely, with a minimum of added ingredients. 100% fruit purées became an integral part of this trend, both in pastry-making and savory foods. This enabled them to develop desserts without gluten, without lactose, often vegetarian or vegan, where the taste of fruit truly came to play a central role. In main courses or savory dishes, fruit had to be based on 100% fruit purées. This is the case, for example, in a raspberry vinaigrette or foie gras with figs.
We observed as well that the most creative chefs became more daring in combining flavors. They also assembled different fruit purées de fruits, adding herbs and spices in incredible recipes. This trend to associate and assemble flavors is now on the rise in many countries.
What is the impact of 100% fruit on professional practices? What are the benefits for customers?
The level of sugar (Brix) is the key in designing a recipe, in particular for pastries. Being able to play with the level of sugar, riding the wave of 100% fruit gives food professionals a much wider range of freedom and creativity. This enables them to balance their recipes as they see fit and as they imagine them in terms of taste. This trend is fully in line with increasingly complex and personal practices.
---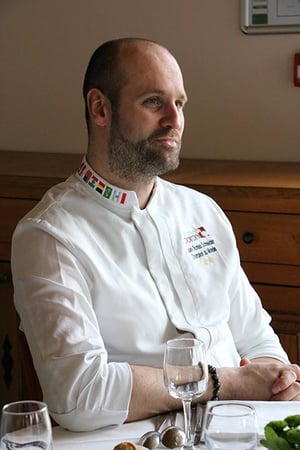 The expert opinion of Jean-Thomas Schneider, 2017 World Pastry Champion and 2018 Ice Cream Champion
In terms of fruit, there are two categories trending among pastry and ice-cream makers: on one hand, great classics, such as strawberries, raspberries, coconuts and, on the other, more exotic fruits such as yuzu, which came on the scene just a few years ago, and calamansi, which is still relatively unknown among consumers. What's really interesting is to blend flavors and to dare to find new combinations.
For example, putting raspberry and yuzu together works really well. You can also marry sweet and sour 100% fruit purées. The mix of mango and passion fruit is one of my favorites.


---