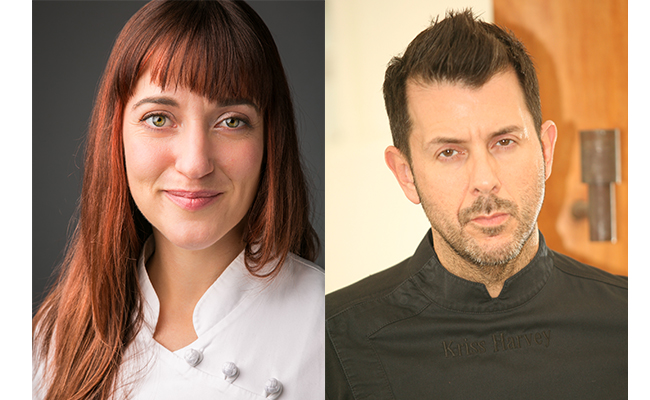 January 2018: Les vergers Boiron is excited to have coming on board two new addition to its Brand Ambassadors team:
Angela Pinkerton
After graduating with honors at L'Academie de Cuisine's pastry program in Washington D.C. area in 2005, Angela Pinkerton started her career working at The Ritz Carlton, VA.
Once in New York City, Angela assumed a pastry cook position and as the Executive Pastry chef at Eleven Madison Park Restaurant. Named Outstanding Pastry in 2011 by the James Beard Foundation, Angela was a key contributor to the restaurant achieving a Four-Star review by the New York Times, being awarded Three-Stars by the Michelin Guide and rising to the Fourth Best Restaurant on the San Pellegrino list of the World's 50 Best; Best Restaurant North America.
Now in the West Coast, Angela oversees pastry operations for Che Fico.


Kriss Harvey
With over 20 years of experience, executive pastry chef Kriss Harvey have had pastry positions at some of the country's finest establishments, including The Ritz Carlton in Washington, D.C., NoMi in the Park Hyatt Chicago and at Bartolotta Ristorante Di Mare at the Wynn Resort in Las Vegas and most recently at The Bazaar by José Andrés at the SLS Hotel Beverly Hills.
He also consulted on various pastry menus around the country. In 2017, Kriss was named Top Ten pastry Chef in America by Dessert Professional Magazine.

Angela Pinkerton and Kriss Harvey are, as of January 2018 the West Coast ambassadors of the frozen fruit solutions brand.Joining Michael Laiskonis, Creative Director of New York City's Institute of Culinary Education, who is based out of NYC, Angela and Kriss are based in California and will be joining the Les vergers Boiron team on shows and product demonstrations around the West Coast.

Les vergers Boiron is proud to have both chefs as long time fans of our purees and now, Brand Ambassadors for US West coast.